What is Irlen Syndrome?
Irlen Syndrome (also referred to at times as Meares-Irlen Syndrome, Scotopic Sensitivity Syndrome, and Visual Stress) is a perceptual processing disorder. It is not an optical problem. It is a problem with the brain's ability to process visual information. This problem tends to run in families and is not currently identified by other standardized educational or medical tests.
Irlen Syndrome can affect many different areas, including:
Academic and work performance
Behavior
Attention
Ability to sit still
Concentration
This problem can manifest itself differently for each individual. This problem is not remediable and is often a lifetime barrier to learning and performance. If you suffer from any of the following, Irlen Syndrome might be your problem:
Print looks different
Environment looks different
Slow or inefficient reading
Poor comprehension
Eye strain
Fatigue
Headaches
Difficulty with math computation
Difficulty copying
Difficulty reading music
Poor sports performance
Poor depth-perception
Low motivation
Low self-esteem
Symptoms of Irlen Syndrome
Light Sensitivity:
Bothered by glare, fluorescent lights, bright lights, sunlight and sometimes lights at night
Some individuals experience physical symptoms and feel tired, sleepy, dizzy, anxious, or irritable. Others experience headaches, mood changes, restlessness or have difficulty staying focused, especially with bright or fluorescent lights.
Reading Problems:
Poor comprehension
Misreads words
Problems tracking from line to line
Reads in dim light
Skips words or lines
Reads slowly or hesitantly
Takes breaks
Loses place
Avoids reading
Discomfort:
Strain and fatigue
Tired or sleepy
Headaches or nausea
Fidgety or restless
Eyes that hurt or become watery
Attention and Concentration Problems:
Problems with concentration when reading and doing academic tasks
Often people can appear to have other conditions, such as attention deficit disorder, and are given medication unnecessarily.
Writing Problems:
Trouble copying
Unequal spacing
Unequal letter size
Writing up or downhill
Inconsistent spelling
Other Characteristics:
Strain or fatigue from computer use
Difficulty reading music
Sloppy, careless math errors
Misaligned numbers in columns
Ineffective use of study time
Lack of motivation
Grades do not reflect the amount of effort
Depth Perception:
Clumsiness
Difficulty catching balls
Difficulty judging distances
Additional caution necessary while driving
Distortions:
Words on the page lack clarity or stability; i.e., may appear to be blurry, moving, or disappear
Irlen Screening
See if you have Irlen symptoms by taking a two-minute quiz.
An Irlen Screening takes an hour. A Certified Irlen Screener is specially trained to provide perceptual testing that will accurately diagnose whether Irlen Method and environmental and educational accommodations will provide immediate improvements in reading, math, handwriting, attention/focus, fluency, comfort during visual and computer tasks, and calm sensory overload.
Irlen Screenings provide information and awareness of sensory processing disorder symptoms and their possible causes which can mildly or severely impact a child or adult, and may be traced genetically for generations, across family members, from childhood or due to an illness or injury. Over 15% of all people have some degree of light sensitivity and are often undiagnosed or misdiagnosed with other conditions unless the professional tester is specially trained.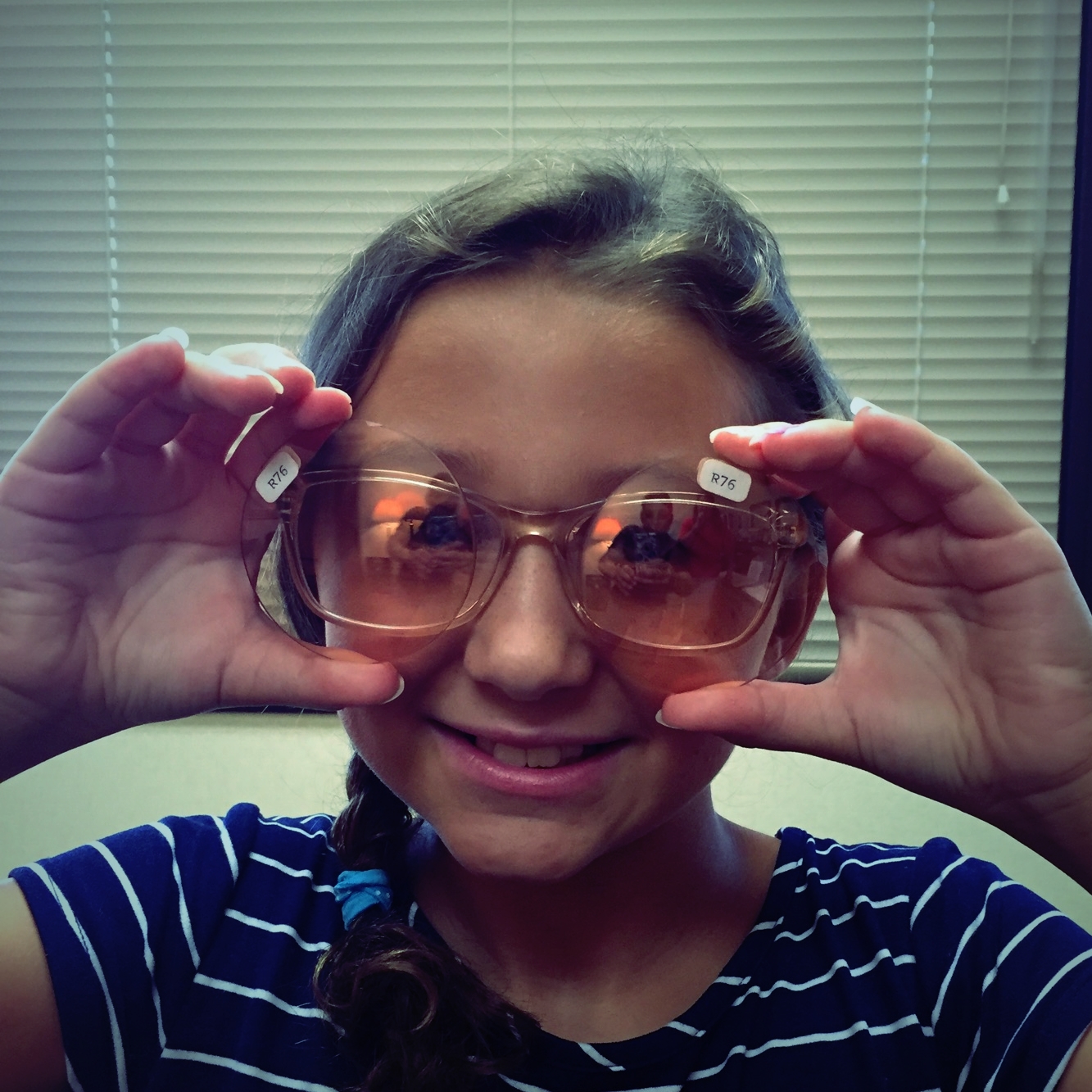 Once a diagnosis of Irlen Syndrome is established, various interventions can immediately relieve unique symptoms and improve function, learning, working productivity, stress working at the computer, attention, behavior and emotional balance. During the testing session, improvements may be observed and documented in such areas as reading or math fluency, accuracy, comfort, sustained attention, visual tracking and convergence, visual tracking, clarity of text, and ease and enjoyment during visually stressful tasks. With specific accommodations, improvement can be seen in handwriting, attention/focus, behavior, reading music score, testing results, as well as, a decrease in headaches, migraines, visual stress, and discomfort.
Irlen Method has over 30 years of evidence-based, medical & educational research from centers of neurology, psychology, psychiatry, public education, ophthalmology, reading remediation, vocational rehabilitation, the military, and prison schools. Irlen Method has been featured at major professional conferences, research journals, 60 Minutes, National Geographic, ABC/NBC News, Amen Clinics, Harvard Medical Journal, Bulletproof Executive, and universities internationally. Irlen Diagnostic Centers are found throughout the world. Millions have been helped by Irlen Method. Check out the latest neuro research from Cornell University.
Irlen Filter Diagnostic Testing
Irlen Filter Diagnostic Testing usually takes 2 hours and is conducted after an Irlen Screening has determined that the client has Irlen Syndrome. Under certain conditions, an Irlen Screening and Diagnostic Testing can be conducted on the same or consecutive days to maximize travel time for out of town clients.
We have seen such significant improvement of Zoe's grades, reading fluency, comprehension, as well as benefits of better mood and less stress and anxiety attacks since using her overlays -- Zoe's Mom
One or two testing sessions is usually all that is needed to provide immediate relief. Improvements can be observed immediately from sensory stress symptoms. Because scotopic sensitivity syndrome, or light sensitivity, is pervasive and often misdiagnosed or undiagnosed, symptoms can mimic or contribute to other conditions: dyslexia, dysgraphia, dyscalculia, ADD/ADHD, anxieties, autism, migraine/headaches, Lyme Disease, brain injuries/strokes, and other neurological conditions. Irlen Syndrome is often exacerbated by fluorescent or bright lights, high contrast patterns, working at computer screens, driving especially at night, during sustained activities such as testing or long periods of sitting, stress, and much more. By decreasing visual stress, other processing problems can improve such as executive functioning, auditory processing and motor coordination.
Immediate improvements are observed in the testing session so guesswork is eliminated. The use of Irlen spectral filters worn as tinted RX or no RX glasses or contact lenses can provide relief in all situations where light and visual stress is a problem.
It is recommended that clients come in for yearly Irlen Re-Tint sessions to insure tints are accurate. Already tinted Irlen tints often can be re-tinted inexpensively, if faded or adjustments need to be made from the original tints to increase accuracy and benefits. Tints can change due to medical conditions and changing status, trauma such as sports or car injuries, medications or medication dosage changes, and can fade within a year. In most cases, the Irlen Re-tint session takes about 30 minutes if done yearly, longer if one waits. If you move, Irlen Diagnostic Centers are found in 47 countries and 27 states, and any Irlen Diagnostician can provide a re-tint session by obtaining your tints from our Irlen Labs, in California or Australia. Consumers may not contact Irlen Labs for their tints RX but must go through an Irlen Diagnostician for new or retinted filters.